Written by Boston Biker on Dec 09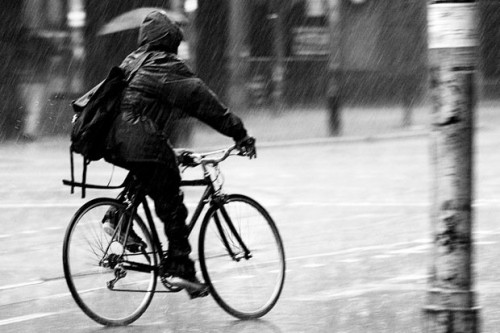 And there was a fair amount of wind as well.  But you know what, I rode my bike, and so did hundreds of other people.  Because there is no such thing as bad weather, only poor clothing choices.
I had my rain pants on, my rain jacket, some water proof gloves, and I was happy, warm and dry.  And as an added bonus everyone at work got to say (for the 1000th time), "You rode your bike to work today!?!"
When I went outside and the rain bounced off my arm and hits me in the face with a little sting I briefly questioned my "year round biking lifestyle,"  but when I got to the Longfellow and saw the poor poor people packed like fish into the red line, I knew I had made the right choice.
99 out of 100 days riding your bike to work is like enjoying a fine piece of chocolate, or a spring day, or a kiss from a loved one, but once in a while its total shit.  Today was that day, as will be roughly 3.65 days this year (if it really is 99 out of 100) when riding your bike to work is not that fun.  You can make it more fun with proper clothing, but sometimes it just a little bit of an uphill struggle.  I see the very few bad days as my payment for the hundreds of amazing ones.  A small price to pay.
Tags:
ice rain
,
pointy rain
,
rain
,
rain ice
,
rain snow
,
snow
,
snow rain
Posted in
bostonbiker
|
2 Comments »