Written by Boston Biker on Oct 02
Hubway is going to try to stay open as long as they can this year, and just installed 11 new stations!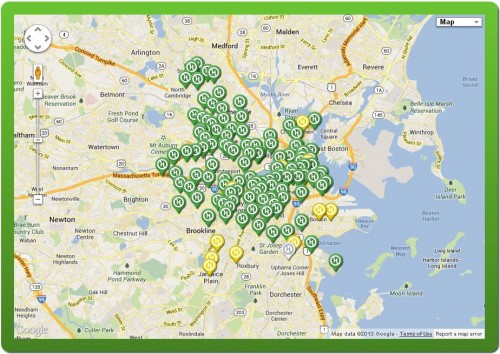 Just look at all them green dots! (the yellow are the new ones, and the grey planned, click here for interactive map)
——————–
From their email:
When you live in New England, you get used to feeling like it's always about to snow. But with weather like we've been having lately, along with recent station expansion throughout the metro-Boston area, we're excited about riding as far into Fall as we possibly can. See below for events this month in each of the towns and cities that make up Hubway. We invite you to post your Hubway pics to show us where you're riding this month.
NEW HUBWAY STATIONS
This past week, 11 new stations launched throughout the system, including the first ever Hubway stations in Jamaica Plain and expanding deeper into Southie and Charlestown! Riders were excited, and some were even moved to tears. Here's a list of the new stations:
JAMAICA PLAIN
JP Monument – South Street @ Centre Street
JP Centre – Centre Street @ Myrtle Street
Hyde Square @ Barbara Street
Egleston Square @ Columbus Ave
BOSTON COMMON
Charles Street @ Beacon Street
SOUTH BOSTON
West Broadway @ Dorchester Ave
South Boston Library – 646 East Broadway
NORTH DORCHESTER
East Cottage Street @ Columbia Road
CHARLESTOWN
Hayes Square @ Vine Street
DOWNTOWN
Milk Street @ India street
FENWAY
BIDMC | Brookline Avenue at Burlington Street
View the entire Hubway station map here.
Please use the Spotcycle app for smartphones or Hubway Tracker
for up to the minute system information and bike/dock availability.
Tags:
extended hours
,
hubway
,
more stations
Posted in
infrastructure
|
No Comments »