Written by Boston Biker on Sep 19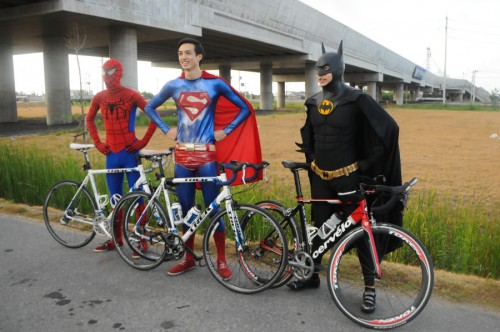 Bicycles have many super powers, but every morning I use one of the little known ones, the ability to become a pedestrian at will!
A cyclist walking their bike is a pedestrian. Totally separate set of laws, totally separate set of road use conditions. SUPER USEFUL SUPERPOWER!
Before I tell you how I used that super power this morning here are some general uses:
If you have trouble making left hand turns, get off your bike and use the cross walk.
Bypassing road construction by walking on the sidewalk.
Walking over footbridges as a shortcut.
Walking up and down steps as a shortcut.
Walking through buildings as a shortcut (very useful on some campuses).
This list could go on forever, feel free to add any to the comments, but you get the idea.
Near my house is a school for little ones, and every morning there is a line of cars waiting for the "school bus" (its just a van with lights on it) to drop off the kids. There is also always a cop sitting there who LOVES to give out tickets to people (including cyclists) who drive past the blinking "illegal to pass when these lights are flashing" sign on the back of the "bus."
Every morning I see impatient drivers/cyclists get in trouble by Johnny law for breaking the simplest of laws (don't be bad in front of cops…duh), and every morning I do the following.
I ride up to the start of the wait line. Get off my bike. Walk past the school bus on the side walk. The get back on my bike. Whole thing takes about 30 seconds. I am literally walking past a single van.
The cops love it, they smile at me every morning. I am following the law TO THE LETTER, and it allows me to keep my commute speedy and safe.
What bike super powers do you use on a regular basis? Let us know in the comments.
Tags:
bikes
,
school bus
,
super powers
,
walking
Posted in
education
,
fun
|
8 Comments »