Written by Boston Biker on May 11
Hubway had a good year last year, with half a million trips before shutting down for the winter.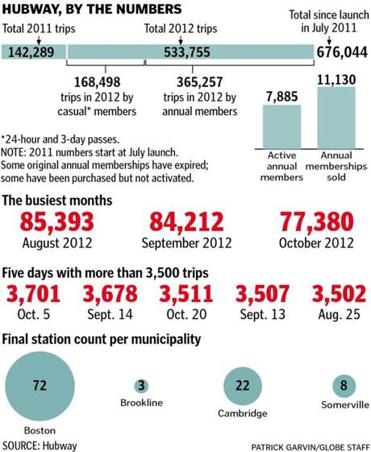 They reopened the service April 2, and as of May 7th had already logged 85,000 trips. If they keep up this pace the system should hit 1 million plus trips this year. See the email they sent me below.
We've made it! Another winter is under our collective belts and the miles are starting to pile up on the Hubway fleet. Did you know that since we reopened the system on April 2, riders have logged more than 85,000 trips? That's right, Hubway is #RealTransportation.

Hubway is pleased to announce an exciting new partnership with Bicycle Benefits, your single source for discounts at local businesses throughout metro-Boston and beyond, available to you simply by riding your bike and wearing a helmet. Beginning May 1, every Hubway member will receive a Bicycle Benefits sticker in their new member packet! Affix the sticker to your helmet and you're ready to enjoy exclusive savings at great local businesses! Already a Hubway member? Follow Hubway on Facebook and Twitter to learn when we'll be out and about around town. Show us your Hubway key fob and your helmet, and we'll hook you up with your own sticker! Visit http://www.thehubway.com/bicycle-benefits for a list of participating businesses and to learn more about this great program.

And don't forget that May is National Bike Month and here in Massachusetts, May 11th-19th is Bay State Bike Week. There are dozens of great events to choose from so get on a bike and ride!
85,000 trips during April (an admittedly cold miserable month) rivals some of the busiest months the system had last year, one can assume that once the weather is really nice the trip counter is going to smoke it goes up so fast.
One can hope that the success of the program will allow them to expand the system into Dorchester, and other under-served neighborhoods. These areas could really benefit from such a reliable and cheap form of transportation.
I personally have seen more Hubway riders in the last couple weeks than ever before, the streets are thick with them during commute times, and on the weekends. I love it, long live Hubway!
Tags:
by the numbers
,
explosive growth
,
hubway
Posted in
Bike Business
,
Commuting
,
infrastructure
|
3 Comments »