Written by Boston Biker on Dec 06
Its happened again…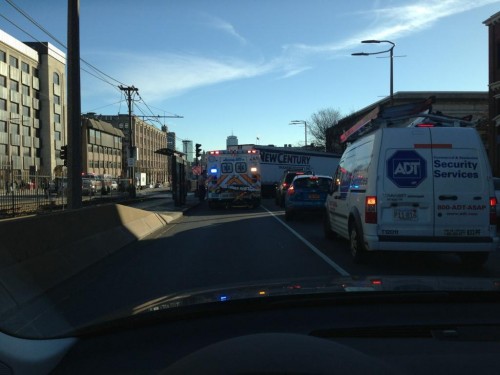 (img src)
A bicyclist did not survive a collision this morning with a semi at Comm. Ave. inbound at St. Paul St..

At 8:51, Sasha tweeted from a passing trolley:

Body covered by a tarp. RIP. what a bad start to the morn.

By coincidence, a City Council committee holds a hearing on making Boston safer for bicyclists today at noon at City Hall.
More info when I get it:
NPR reports, that a cyclist was in a bike lane when the semi-truck made a right turn and hit him. Was a white male in his 20's.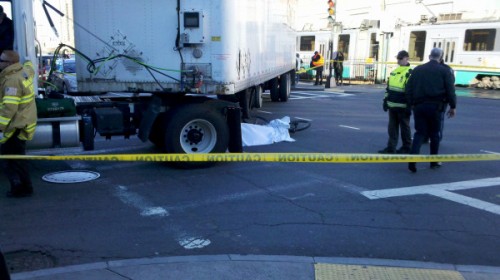 (img src)
According to Boston Police, at 8:36 a.m., a cyclist was struck by an 18-wheeler at the intersection of St. Paul Street and Commonwealth Avenue, near Boston University campus. Police closed down the 900 block where the accident occurred.

Police confirmed at 9:49 a.m. that the cyclist died as a result of the accident.

People reported seeing a sheet over the bike and the victim at the scene as they passed the accident near Boston University's campus.
EDIT: A picture of the truck.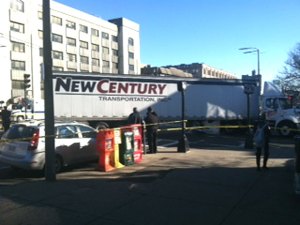 EDIT: another image of the scene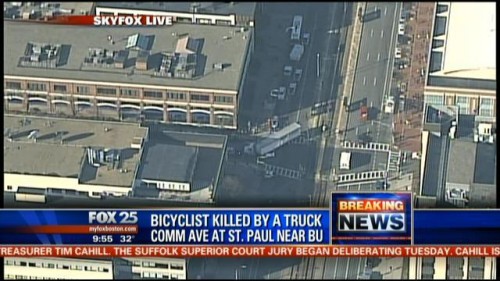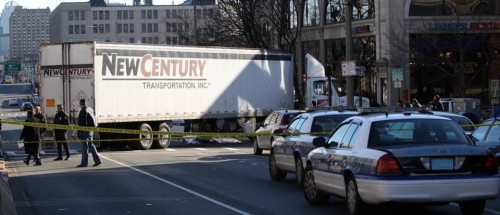 Boston police spokeswoman Cheryl Fiandaca said in an e-mail that the bicyclist was killed and that the department's Homicide Unit is now investigating the incident. Suffolk District Attorney Daniel F. Conley's office has also sent a prosecutor to the scene, officials said.
EDIT:
WHDH-TV –
EDIT: Heading to this meeting, on bike safety, see you there, more when I get back.
EDIT:
Students name released:
Christopher Weigl (COM'14), a 23-year-old BU graduate student who was pursuing a master's in photojournalism at the College of Communication, collided with a 16-wheel tractor-trailer at about 8:30 a.m. Witnesses say Weigl and the truck both were traveling east on Comm Ave and collided when the truck made a wide right turn onto St. Paul Street. The accident is being investigated by the Boston Police Department, which cordoned off the area and closed Comm Ave eastbound. No citations have been issued.

"Chris was just a great guy," says Sarah Ganzhorn (COM'13), a fellow graduate student in COM's photojournalism program. "He was always smiling. He was just a really chill guy who never had anything negative to say about anything."
EDIT: More photos: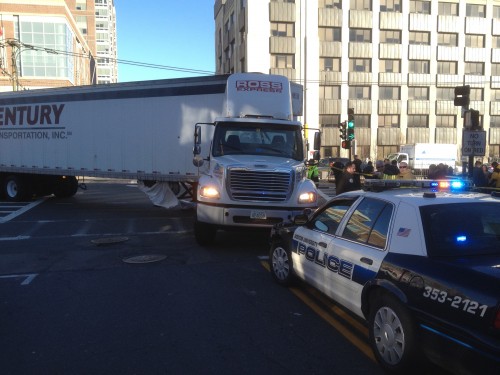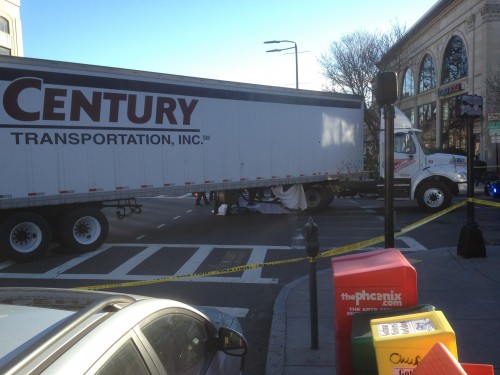 Tags:
Christopher Weigl
,
Comm. Ave
,
crash
,
cyclist killed
Posted in
news
,
video
|
104 Comments »