Written by Boston Biker on Dec 03
From the email: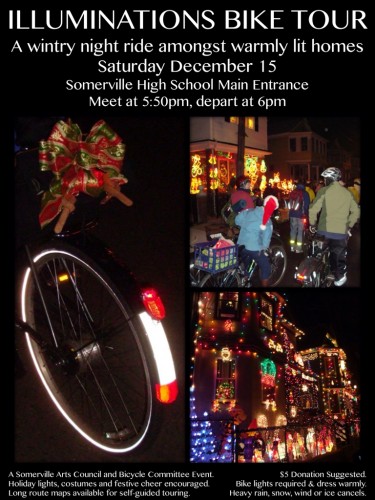 The third annual Illuminations Bike Tour will be held on December 15, a joint production of the Somerville Bicycle Committee and Somerville Arts Council. Please join us. Details are below and attached.
The guided group ride will be shorter this year so folks can spend more time looking at the lights and stay warmer. For those who would like to tour the longer route from last year, maps will be available. Those touring the longer route may continue after the short guided tour concludes, may meet with others at the suggested times below or tour the route on your own schedule with friends.
Please join us and happy winter solstice,
~ Brian Postlewaite (for the Somerville BIcycle Committee)
Illuminations by Bike
December 15, 2012
Guided Short Route
Meet Location: Somerville High School Main Entrance
Meet Time: 5:50pm
Departure: 6:00pm
Duration: 45 minutes, or less
Required: warm clothes & bike lights
Recommended: holiday lights, costumes & good cheer
Suggested: Donate $5 to the Somerville Arts Council
Afterwards: Hot drinks & treats at City Hall
Unguided Long Route
Maps: available at city hall, donation recommended.
Suggested Meet Times: 7:15pm & 8:30pm
Tags:
illumination ride
,
lights
,
Ride
Posted in
fun
|
No Comments »