Written by Boston Biker on Nov 14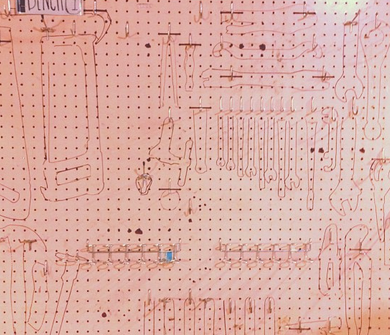 A Jamaica Plain-based volunteer bike co-op that helps Boston-area cyclists fix their rides for free has been shut down "indefinitely" after someone allegedly stole an abundance of equipment from the shop.
The Community Spoke, which provides bicycle repair services, instruction, bike parts, and reconditioned bikes for free to the Greater Boston area, announced on November 14 that "due to a break-in and burglary at our shop, the Spoke will be closed."
"Tools, parts, and bikes were stolen," according to the company's website.  "It's very sad to have to close under these circumstances."
Someone took a photo of where the tools used to fix bikes were once hanging in the community work space and wrote, "[we are] now closed, effective immediately…due to selfish, greedy cowards."
The Community Spoke's Facebook page says:
Hey everyone,

Thanks so much for a great season! This has been our best season yet and we're all happy and proud to have been able to do what we've done. However, due to a break-in and burglary at our shop, the Spoke will be closed indefinitely.

Tools, parts, and bikes were stolen. Please keep an eye out for a brown/copper colored ANT cycle truck (picture below) with a 20″ front wheel and a very
large front basket and an older steel metallic turquoise Miyata mountain bike with an Xtracycle conversion kit. These are very recognizable bikes, and we use them to transport our tools and mobile workshop supplies to do free bike repair away from the shop. If you have heard anything about our tools or bikes, please email us at [email protected] or call Alex at (910) 547-4843 or Dora at (516) 658-4224.

It's very sad to have to close under these circumstances, but we will make every effort to reopen next season. Thanks again, y'all have been great.
The Community Spoke would like to make it clear that we are not involving the police in this matter, and we would like for you to do the same for the sake of the community, and for the house attached to the shop. If you have any questions regarding this, please contact us. Do not contact the police. If you are questioned, please do not give them any information.
which sounds a little strange to me…but either way this is horrible. If you see those bikes contact them at the number/email above.
The Community Spoke has clarified their decision not to involve the police here:
Since our break-in was noticed on Tuesday, we've received more publicity and attention than we have in our entire two years of operation. This is both heartwarming and troubling. While we appreciate everyone's generosity in reaching out, and we're glad to have your support, we're disappointed that it's a negative event that has brought The Community Spoke! to the attention of the greater public.

I have personally turned down two television interviews in as many days and we've been mentioned in numerous blogs and online media sources. It's becoming hard to distinguish between genuine concern and sensationalism in the responses to the break-in at our space. One question that has been asked by those concerned as well as those wishing to capitalize on our loss is "why have you chosen not to involve the police?"

The simple answer is that involving the police is at odds with our established points of unity. We have written and agreed that "we seek to challenge the root causes of social and environmental injustice by creating community-based alternatives and fostering a spirit of mutual aid" and that "our community workshop and mobile repair stations are safe spaces free from oppression, violence and weapons." The police are an organization that doles out oppression and violence and we as a community can do better.
follow this link to read the rest.
Tags:
community spoke
,
horrible
,
theft
Posted in
news
|
22 Comments »