Written by Boston Biker on Nov 12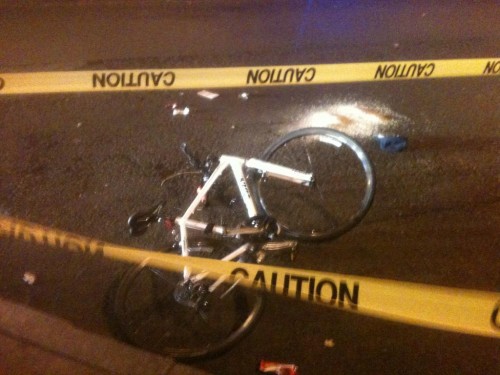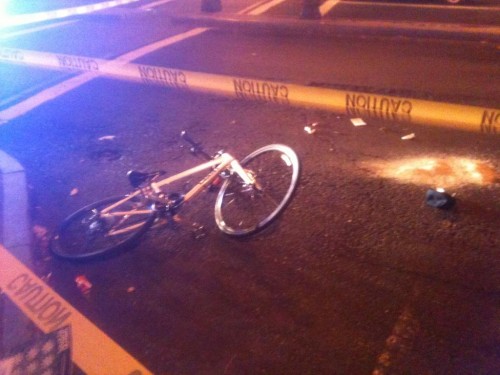 I am getting reports of a cyclist hit and potentially killed in Allston.
Here are the details I have so far:
Happened around 6:15pm tonight
Corner of corner of Harvard Ave and Brighton in front of Redneck BBQ
some say it involved an MBTA bus
No Helmet
Rider is male, wearing a Red Sox hat
white Giant bike with Knog lights
rider had a new Kryptonite lock on the handlebars
Apparently the ambulance didn't rush off after loading him in, which means he is either ok, or dead. I am hoping he is ok.
Does anyone else have any information about this incident? More information when I get it.
EDIT: I am getting more reports that the cyclist has been killed, nothing confirmed yet though.
EDIT:
It was fatal sadly.
from here.
A 21-year-old bicyclist was fatally struck by a vehicle in Allston tonight, and authorities are trying to determine if an MBTA bus was involved, police said.

Boston police Officer Neva Coakley, a department spokeswoman, said the man was struck just before 6:30 p.m. near the corner of Harvard and Brighton avenues, and witnesses reported that the vehicle may have been a T bus.

Joe Pesaturo, an MBTA spokesman, said Transit Police are working closely on the investigation with Boston police and the Suffolk County District Attorney's office, but he declined further comment.

Jake Wark, a spokesman for District Attorney Daniel F. Conley, said a prosecutor from the office was at the scene tonight, but authorities have not confirmed that it was a T bus that hit the man.

More than a dozen plainclothes and uniformed Boston police officers were at gathered at the intersection tonight directing traffic and telling pedestrians passing through the busy intersection to move along.

The eastbound lane of Brighton Avenue was cordoned off, just outside Redneck's Roast Beef, and a twisted white bicycle was visible just off the sidewalk at the corner.
This is tragic, so young. If he was hit by a bus it will be yet another in a string of cyclists killed by large vehicles. This has to stop.
EDIT:More images of the scene here.
Bostonino reports that a bus driver has been taken out of service and questioned:
A 58-year-old MBTA bus driver has been taken out of service while the Boston Police Department and officials from the T investigate the circumstances of a bicycle accident in Allston that killed a man in his twenties.

"A Route 57 bus operator has been taken out of service while police investigators work to establish facts in this matter," according to T spokesman Joe Pesaturo. "[The driver] is 58, and he has been with the T for six years."

According to reports, witnesses said an MBTA bus may have been involved in the accident, which happened on the corner of Harvard and Brighton Avenues on Monday evening, just after 6 p.m.

Jake Wark, a spokesman from the Suffolk District Attorney's Office, said the cyclist was killed, but no charges have been filed at this time.

"It is still under investigation," said Wark, via e-mail to BostInno.

Wark did say, however, it was a "bus and [bic]cycle collision."
EDIT: Seems the bus driver didn't realize he had hit the cyclist.
The bus driver was unaware he struck the bicyclist, according to police, but witnesses at the scene said the bus did hit him.
EDIT: Seems it was a BU Student.
Authorities are investigating the facts surrounding the death of a 21-year-old bicyclist who was struck by a vehicle in Allston Monday night, officials said.

"Everybody is still out, and the investigation is still ongoing," said Neva Coakley, a Boston Police Department spokeswoman.

The accident occurred at 6:36 p.m. on the corner of Brighton Avenue and Harvard Avenue, Coakley said.

News outlets report that the bicyclist was a Boston University student, although BU officials did not confirm this information.
EDIT: NPR Reports that the cyclist was hit by a bus driver, and that the driver may have not known that he hit a cyclist.
Tags:
Allston
,
crash
,
cyclist killed
,
MBTA
Posted in
news
|
43 Comments »