Written by Boston Biker on Sep 17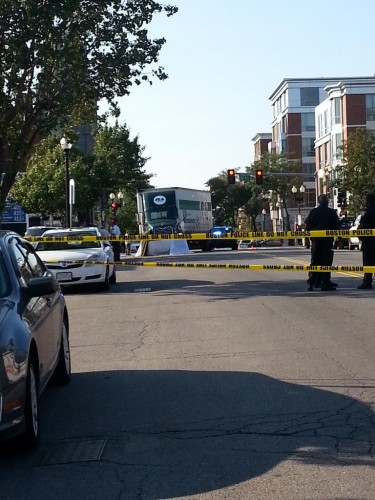 (picture via)
"It appears the TT was turning left from A St on West Broadway when the accident occurred "
More here.
Another in a series of horrific and tragic events…more information when I get it. I hate posting these things, we must do better at protecting cyclists. My thoughts go out to her friends and family.
————–
(via)
Boston Police Investigate Fatal Pedestrian Accident in the area of W. Broadway & A Streets in South Boston
At about 3:50pm, on Monday, September 17, 2012, officers from District C-6 (South Boston) responded to an accident involving a bicyclist and a tractor trailer truck in the area of W. Broadway & A Streets. On arrival, officers located a female victim suffering from what appeared to be life threatening injuries. The victim, who had been riding a bicycle, was pronounced deceased at the scene. The operator of the vehicle remained on the scene and did make his identity known to responding officers.
The Boston Police Department is actively investigating the facts and circumstances surrounding this incident. No citations have been issued at this time.
More news here (warning graphic description of crash)
Update more video here
They reveal that it was a woman in her 30's. Tragically young. (note they mention this website, it pains me greatly that this is the sort of event that draws reporters here, and not the hundreds of happy events that occur all year long. Be safe out there everyone).
more video here:
Tags:
crash
,
cyclist killed
,
death
,
tragic
Posted in
news
|
23 Comments »