The Latest From BostonBiker.org
News, Events, Updates
Written by Boston Biker on May 16
This looks awesome, might even go myself!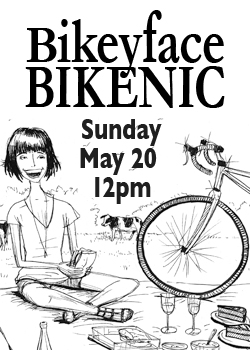 Bikeyface Bikenic · May 20 · 12pm
Are you curious about biking? Or maybe you're experienced and want to share? Come to the Bikenic!
What is a Bikenic? It's a picnic where people share information and discuss biking to work. Bring a lunch, yourself, and your curiosity. No bike riding involved or bike required (you can take the subway or drive for all we care!)
This is not a workshop. This will be a group of people in the community curious about biking, or with tips to share. There is no agenda, set topic, or structure. The idea is that no single person can know everything about what you want to know about bike commuting, but perhaps a group of people do. It will be kind a community knowledge-sharing social event. Hopefully you'll make new friends and find practical answers to your biking questions. All backgrounds, experience levels, and questions welcome and encouraged!
Details:
Date: Sunday, May 20, 12 noon
Location: Boston Common Frog Pond, Boston MA
Bring: A lunch, picnic blanket
Weather: Rain cancels
For updates/additional info: Stay tuned to the event page on Bikeyface (http://bikeyface.com/events/), Facebook (https://www.facebook.com/bikeyface), or Twitter (@bikeyface)
Invite your friends! Facebook event: https://www.facebook.com/events/410288945658274/
Posted in
events
|
No Comments »
The Word On The Street