Written by Boston Biker on Mar 19
This sort of shit just makes you feel bad all over. I can only hope that others follow in her foot steps and continue to do good for the world. This sort of death is senseless, and heartbreaking. Especially when it happens to such an amazing person. This happened last year, but the guy was charged this month.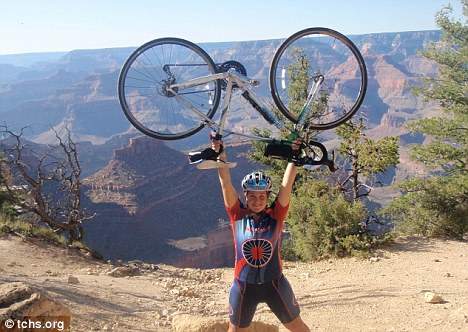 A man has been charged with knocking down and killing a female cyclist who was riding 4,000 miles across the U.S for charity.

Craig Chandler, 44, from Fort Payne, Alabama, was indicted on Negligent Homicide charges, one of the lowest charges he faced, and released on a $3,000 bond.

Christina Genco, 22, died after being hit by a car as she cycled uphill along a highway in Rainsville, Alabama.

Cristina was a group leader for the charity bike ride, which was part of the national campaign called Bike and Build.

The group were cycling from South Carolina to Santa Cruz in California to raise funds for Habitat for Humanity.

The Boston university graduate found her passion for fundraising after she travelled to Louisiana and Mississippi to volunteer in the wake of the Hurricane Katrina disaster.

It was the second charity bike ride across America that Christina was taking part in when she was killed and she had planned to work for Bike and Build full-time when the event was completed.

Jeremy Story, who was helping Christina lead the fundraising cycle ride, described her as 'always putting others before herself,' to Boston.com.

'She was one of the happiest people I know,' Story said. 'She more or less woke up with a smile on her face and pretty much went to bed with a smile on her face. She was always making me laugh and was great to be around.'

Marshall County prosecutors are handling the homicide case because Chandler is a former DeKalb County investigator, with links to many prosecutors in that community.

The Criminally Negligent Homicide charge was on the low end of the spectrum of charges the Grand Jury could have pressed against Chandler.

If convicted, he could face up to a year in jail and a $6,000 fine.
It seems like a crime to only face one year in jail for killing someone, I would like to think that a persons life is worth more than $6000, but sadly these are the kinds of laws on the books in most states. It only convinces me more that all US roadways need to be made to be more bicycle friendly, and that we must continue the fight to make the law more equitable to cyclists. Only a road system designed with all road users in mind will reduce these senseless deaths.
ps. thanks Cait for the heads up on this article
Tags:
Boston University
,
sad
,
travisty of justice
Posted in
advocacy
,
news
|
8 Comments »