Written by Boston Biker on Mar 15
Even though the light is better, you still need a red back light, and a white front light. Not only is it the law, it will save your bacon. Today I ran across an amazing, comprehensive, one stop shop review for all things bike light related. Check it out here.
Here is a taste: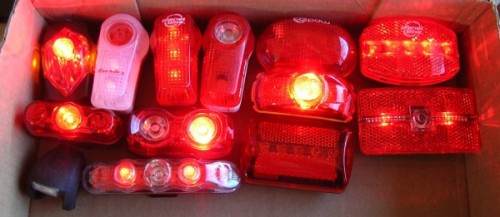 Choosing a light can be a difficult task though – there are countless options to choose from ranging from cheap $3 flashers to blindingly bright $200 powerhouses. The internet already has some good comparisons of bike headlights, but there's a surprising lack of comprehensive taillight comparisons, so I decided to make one. For science.

In total, I reviewed 16 different taillights from 8 of the top light manufacturers. I chose which lights to review based on a survey I conducted on the parent site for this blog – Bicycles Stack Exchange, a Q&A site for everything about bicycles, and also asked on Reddit's /r/bicycling. The incumbent in this race is the Planet Bike Blinky Superflash. Everyone has this light (myself included). Not only is it the light most people own, it's also the most-loved – 20% of respondents said it was their favorite. In terms of what people wish they had or are considering buying, the Planet Bike Superflash Turbo, Portland Design Works' Radbot 1000 and Danger Zone, and the Niterider Cherrybomb were all high on the list. Many people expressed an interest in DiNotte's lights, but unfortunately we were unable to acquire one for this review and the company declined to loan a light for the review.

I'm sure you're all dying to know which light is the best, but first, let's take a look at the contenders.
This review is so good it comes with a table of contents, check it out here.
Tags:
awesome
,
bike review
,
lights
Posted in
Bike Business
,
Commuting
,
reviews
|
6 Comments »