Written by Boston Biker on Apr 07
For those of you not in "the know" it is a grand tradition among cyclists to ride out to the start line of the Boston Marathon, and then ride back into town ahead of the runners.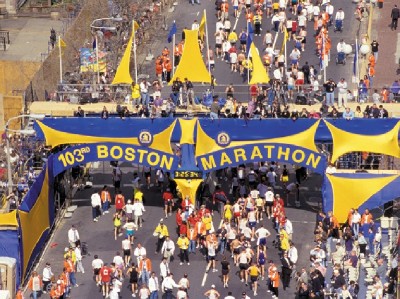 Its become such a popular thing over the years that there are regular organized rides that have been going on for years.
Some basic stuff you need to know about the Boston Marathon rides:
If you are leaving from Boston, leave early, you need to be out to the starting point WELL BEFORE the first group goes out.
The first group that goes out are the mens wheelchair racers. These guys are wicked fast, I hear they average 15mph+ for the entire route.
Its important to know how fast the guys behind you are, because if you ever fall far enough behind that anyone from the race catches you, you will be removed from the route and the shame of riding home a different route will live with you forever. All the good roads home are closed because of the race so this really is a pain.
The route will be open to traffic on the way out, but by the time you leave it will be closed to traffic, so you get a nice 26.2 mile ride back into the heart of Boston car free!
You can beg gatoraid off of the side lines people, but I would highly highly suggest you bring your own food/drinks. For me its often a 60+ mile ride (depending on where I start from), with the later half done at a higher speed, you are going to need some fuel.
You most likely will not make it all the way to the finish line unless you leave very very early. They close down the last part once all the media and people get there. Last year I made it about two blocks from the finish before they booted me.
Train tracks, potholes, etc. For being one of the most famous footraces in the world, they don't really do too much to make the route friendly, beware road hazards.
That first big hill out of the start is FANTASTIC, bring a bike that coasts just to enjoy that nice downhill. I have hit 40+ mph on the decent easy.
Heart break hill isn't so bad on a bike, but you might be tired at that point, bring some snacks.
Go with a group, have fun!
So far I have gotten word of two rides for the marathon (listed below), but there are dozens, if not more. Mostly people just meet at some spot out near BU and ride out as a group ass early in the cold cold morning. Then you make the turn, pee, and scream home, its a glorious day of riding usually followed by lots of eating.
——————————————————-
Boston Marathon Midnight Ride
(more here)
Sunday, April 17 at 10:30pm – April 18 at 3:00am
Not tough enough to run a 26 mile marathon, but awesome enough to bike it the night before? Then join the Boston Midnight Marathon Bike Ride, hosted by Greg Hum and BostonSOS!
Since the start/finish lines and fancy mile markers will be set up, you'll feel just like you're running the marathon, except without all that silly cheering, and on a bike! If you don't have a bike, you can rent one from a place like Urban Adventours (http://www.urbanadventours.com/)
Put in for your vacation day at work NOW!
Itinerary:
1. Arrive at South Station with bike and bring bike with you on 11pm Commuter Rail from Boston South Station, arriving in Southborough at 12:01. (Commuter Rail Schedule: http://bit.ly/9Thmlo)
($6.75 for ticket from South Station to Southborough)
2. Ride 3.2 miles from Southborough Station to Boston Marathon Starting Line in Hopkinton, Ma. (about a 20 minute ride)
3. Ride 26 Miles, 385 yards to Finish Line in Copley Square, Boston Ma. (Depending on your group's pace, this could take you anywhere from 2 to 3.5 hours)
Point A: Southborough Commuter Rail Station
Point B: Starting Line in Hopkinton
Point C: Finish Line in Copley Square
Official Course Map:
http://bit.ly/bLrPwZ
Even though we're "organizing" this event, Please know that you will be responsible for:
-Your own safety (please keep this in mind)
-Directions (Print and bring the map/cue sheet)
-Flat repair preparedness (It sucks to be stranded, so at the VERY LEAST, bring a spare tube/patch kit. If you have them, bring some tire levers/pump or plan to stick with a friend/friends who has one and knows how to change a flat!)
-Water/snacks (Bring at least a bottle of water)
-Spreading the word and bringing friends! (The more, the merrier!)
-Meeting us with your bike at South Station/Starting Line
-Getting Home (please figure out how you're getting home since the T doesn't start till after 5am)
Last bits:
Weather: It's up to you whether to come out or not.
Cost: your commuter rail ticket. This ride is being informally organized as just another awesome idea that begs to be spread, so come prepared to ride and have fun!
Pace: As fast or fun as you please. Bring your friends so you can ride with them! 26 miles is a lot to run, but easily doable in three hours on a bike if you're used to riding everywhere. Most of the route (except for that hill towards the end) is slightly downhill.
Sticking together: This is a group ride, but naturally, people will split because of pacing. Last year over 50 people showed up with bikes ranging from road bikes, fixed gears, and dutch three-speeds, so you can expect several paces to choose from.
BRING A SPARE TUBE. In the event of a flat tire, you'd be doing yourself a huge favor by stopping by your favorite bike shop picking up the right size tube for your tires, just in case. You don't want to be stranded with an unusable bike at 2 in the morning!
You are welcome to meet up with us anywhere along the way and part ways wherever and whenever you please.
Want email reminders or to be notified of other off-beat events? Register at our website, http://www.soscities.org/
——————————————–
Hal's 26th Annual Marathon Monday Ride
It starts early, really early, at the steps of the Boston YMCA (Huntington Ave) at 6am (arrive 15 minute early)and rides all the way to the start line and back (52 miles). It is a fun ride. By the time riders turn around (before the wheelchair class starts) the roads are all closed for the race and the barriers are up. No traffic, and lots of fans on the sides of the roads cheering you on to the finish line. There was about 100 people who showed up at the start last year and another 30+ or so that joined us at Coolidge Corner.
Tags:
Boston Marathon
,
fun
,
rides
Posted in
fun
|
3 Comments »