Written by Boston Biker on Feb 28
I was recently contacted by some people who are developing some prototype apps for smart phones. They have the possibility of being released by the city and are going to be cycling oriented, here is the write up.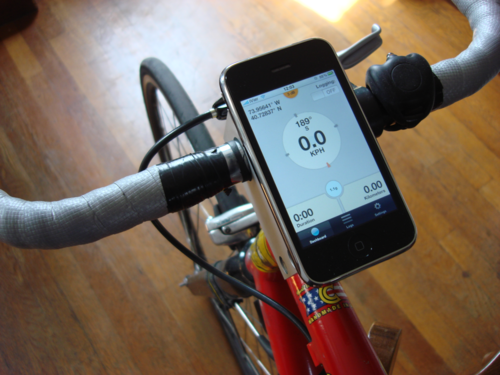 ———————————-
Your smartphone is a sophisticated, connected sensor platform. The City of Boston is rolling out apps to improve quality of life through its "new urban mechanic" initiative. Through apps like Citizens Connect, we can report graffiti, get streetlamps fixed, and (maybe) even automatically detect potholes. I am working on a project with Nigel Jacob, owner of the mechanic project. As a cyclist, I'm prototyping a mobile app that will make life better for bikers in Boston. If it looks good, his department may invest the time to release it as a production-quality system. This would be a great and low-cost way for the Mayor to follow through on his promise to make the city a "cyclist's dream."
Here's my question for you: What do you want? How can we help? What cycling frustrations could be solved with a mobile app? A few ideas to start the conversation:
Need: finding bike lanes. Help with route planning.
Frustration: cars parked in bike lanes. Submit photos of offenders? Automatically detect swerving into traffic when in a bike lane?
Need: automatic dispatch of police/ambulance after an accident. Detect sudden deceleration followed by extended immobility, message 911 with current location.
How can we use technology and the support of the city to make this a great place for cyclists?
—————-
Now Karl makes some good suggestions, but I feel like some of them (the auto 911 calling, and the auto detection of swerving) might be a little hard to lock down, like what if you had your phone in your bag and then threw it down then left it there, you don't need your phone freaking out and calling 911 for you.
Here are some suggestions I have.
A "just crashed" button. Often when people crash they suffer injuries or get damage to their bike that they don't notice till later because of the adrenaline and the sudden nature of the whole thing. Pressing the button would walk you through a checklist of what you should do after the crash. For instance the first thing is asks you is if you need to call 911, if you press yes it records your location and calls 911 with that info. If you don't need 911 it walks you through a post crash checklist. Having you take pictures of the scene, the licenece plate of any cars involved, making audio notes of what happened, marking your location, taking pictures of your bike etc, a place to enter the other parties info, etc. It would also send the location of the crash to the city along with a note about what happened so that the city could record what intersections/locations are dangerous and why.
A Road issue button., a button you could push that would record your location, and let you take a picture and send it to the city, along with notes about what is wrong. Potholes, poorly places grates, double parking issues, whatever. This would send three bits of info to the city, your gps location, your picture, and your text notes. Could also have pre-configured categories (road/driver/other etc.) to help the city collect data on what problems happen most often and in what locations.
A "thank you/like" button. This would be like the road issue button, only it would let you report things you like that the city has done recently. New bike lanes, new bike parking, etc. Besides just telling the city what you like, this could be tied into twitter/facebook/share on blogs etc. It would let you post stuff you like about the city, or things you like the city has done.
Submit your route button. Would allow you to record via gps and submit your daily commute to the city/website. This would allow the city to see where people are riding the most, and help them plan what streets might need bike lanes. You could also use the info the help build bike route maps online.
Feel free to leave your own in the comments. Karl will be checking them out and potentially incorporating some of them.
Posted in
advocacy
,
fun
,
infrastructure
,
Mechanical
,
Questions
|
13 Comments »