Written by Boston Biker on Jan 14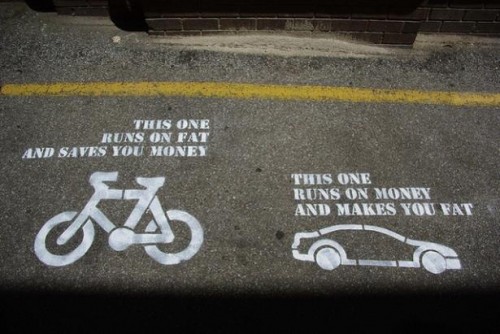 I wrote before (1, 2, 3) about the completely silly response Charlestown had to having some bike lanes installed in their town. I was pretty unimpressed with their logic at the time, and it seems most everyone else was similarly pissed. The Charlestown Patch reports that many many cyclists showed up to tell the city just what they think about the removal of the bike lanes.
Dozens of residents in Charlestown want bicycle lanes returned to Main Street, and they want answers about why they were removed in the first place. They packed the basement of the Knights of Columbus on Thursday to tell the Charlestown Neighborhood Council just that.

For a solid hour, members of the council heard public comments about bike lanes in Charlestown — all of them strongly in favor. Not a single person spoke against bike lanes, but several criticized the council and the Charlestown Business Association for what they perceived as a position against the lanes.

"We had a bike lane on Main Street. Then it got taken out. Why did that happen? What was the cost? I had a bike lane and now I don't," Monument Avenue resident Patrick Murphy said at start the meeting. The crowd applauded, setting the tone for the rest of the evening.(read the rest here)
Bravo C-town riders, and bravo Charlestown patch for keeping an eye on this.
I wrote before that this was possibly the stupidest way Charlestown could have dealt with this entire situation, stating that they could have had some public process before wasting money to remove the lanes. Seems the people of Charlestown agree.
Hopefully this will show the Neighborhood Council who supposedly "spoke for the people" when the vote was taken to remove the lanes that "the people" want bike lanes, and they wont put up with wasting money to install and then remove perfectly good bike lanes.
I highly suggest you read the rest of the patch article as its got some great quotes. Here is a tiny taste
"[The] lesson to learn here is that two wrongs don't make a right," Elm Street resident Nate Blanchet said. "It was wrong for the council to decide to take the bike lane out without further public process."

Council member Bill Galvin clarified the Neighborhood Council did not remove the lanes — the city did. The decision came from the city.

"One of the things we do is protect the process," Galvin said. "There were a number of people in this community who thought there was a negative impact from the bike lanes."

"Where are they," someone from the audience asked out loud.

No one in attendance had any complaints about bike lanes.
Hopefully I will be reporting soon about the new lanes being re-installed.
Tags:
Bike Lanes
,
charlestown
,
so silly
Posted in
advocacy
,
infrastructure
|
3 Comments »