Written by Boston Biker on Jan 08
Thank you very much to the many folks that sent in pictures, I have contacted the first few of you with requests for your addresses. I will be handing out randomly a whole bunch of bike riding books I have, I am not sure you will all enjoy them, but hey they are free and you can always re-gift. So without further delay here you all are in your riding finery. Way to ride Boston, way to ride!
We got some great submissions, everything from cycle chic to high tech ninja biker, below in order of submission are some great winter cyclists.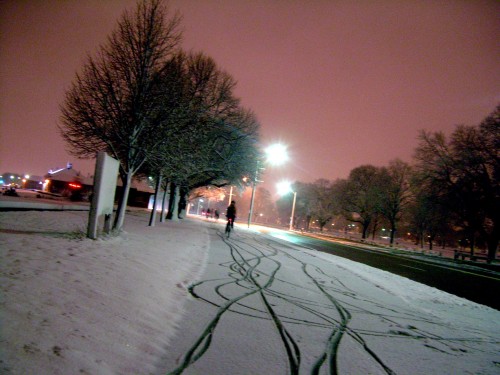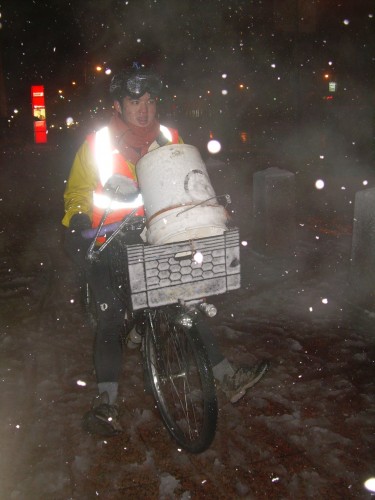 Greg Says:
Both these photos are from the same group ride a year ago, during a snow storm last December, when my drum bike was a bucket on top of my front-mounted milk crate. I'm wearing ski goggles, winter everything, with a reflective safety construction vest to top it off. I look like an insane person. Drum biking in this weather was exhilarating, to say the least.

The other photo was taken later on the path near Carson Beach, where we ended up.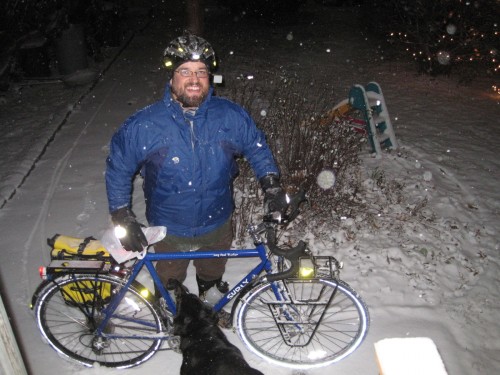 Todd says:
I commute 26 miles, round trip. I bundle up as if my life depends on it:

Head:
Merino Wool beanie
Packing tape over helmet vents (thanks for this tip!)

Torso:
Merino wool long sleeve base layer
Heavy wool sweater
Woolrich button wool shirt
Gore-tex windbreaker

Hands:
Pearl Izumi Barrier Gloves

Bottom:
Polypro briefs
Merino/Lycra base layer
Corduroys
Gore-tex gaiters

Feet:
Heavy wool socks
Plastic shopping bags
Heavy wool socks
Leather hiking boots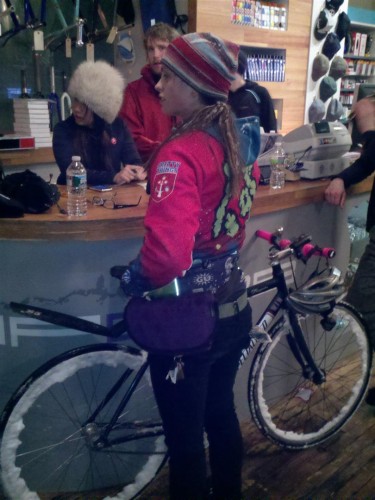 Ben Says:
Cait and I raced in Superb's Blizzard Man race last night. Some good pics on their site http://superbbicycle.com/2010/12/27/superb-bicycle-snow-race-results/ and one attached of Cait, after she came in third!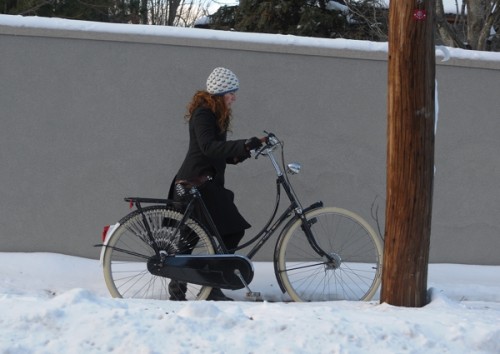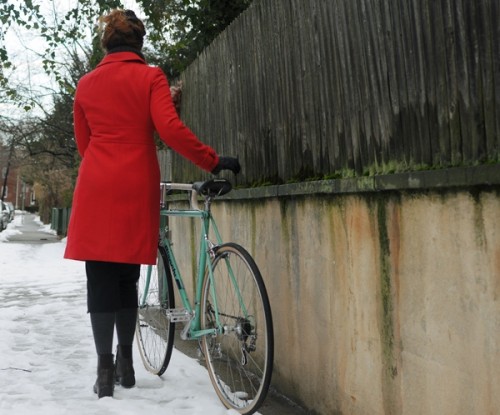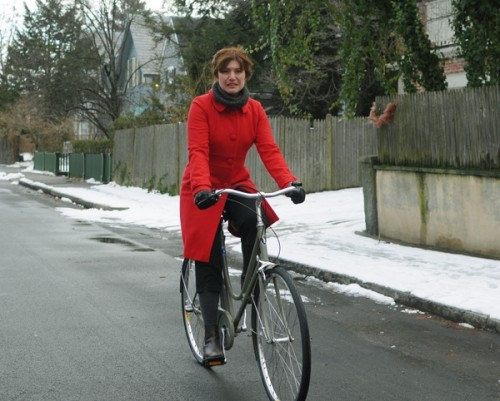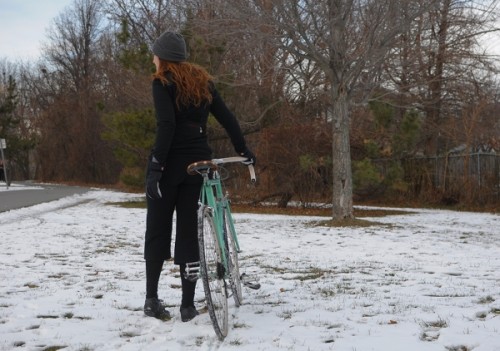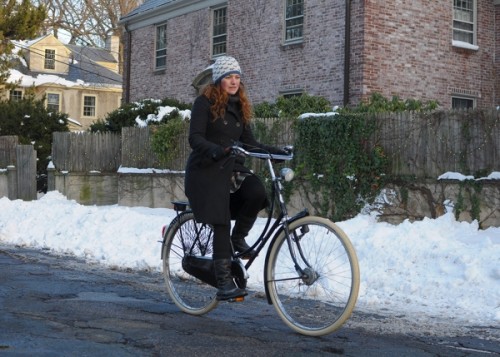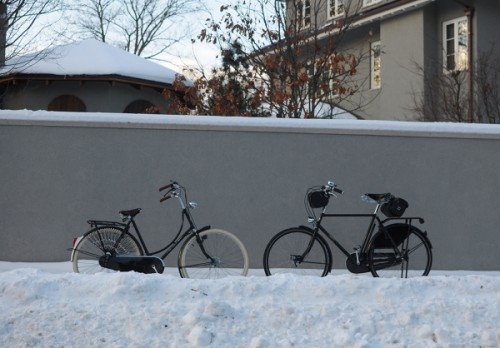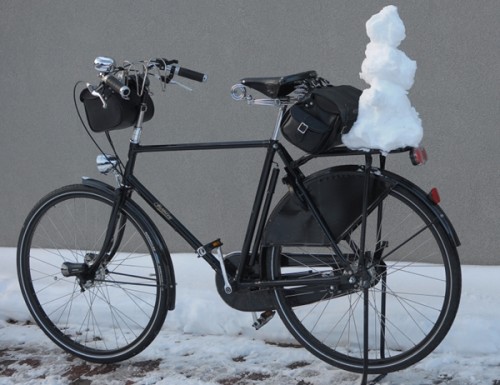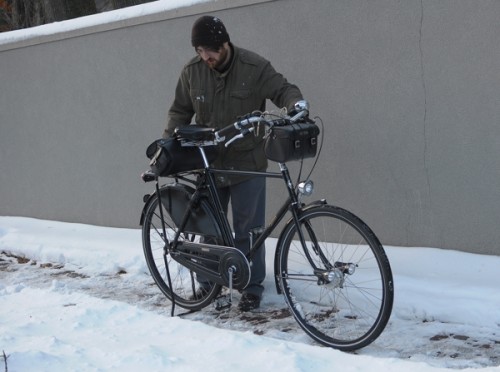 Veloria says:
Snow pictures from "Velouria" at Lovely Bicycle!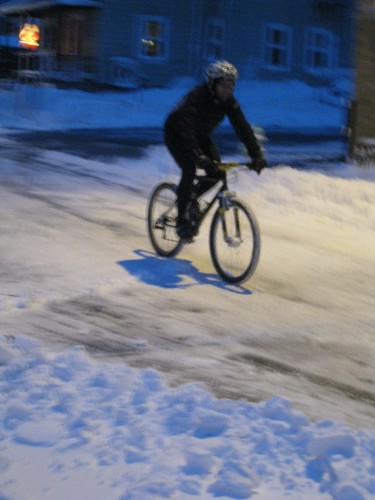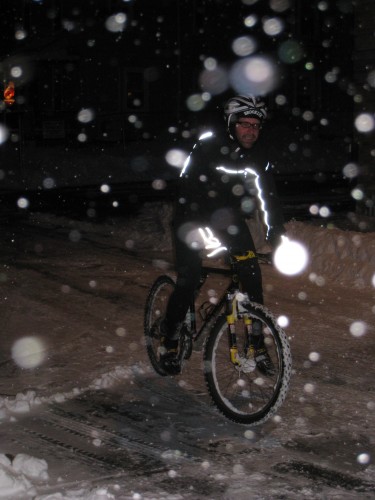 Jonathan says:
A couple pics. Not great, but you get the idea.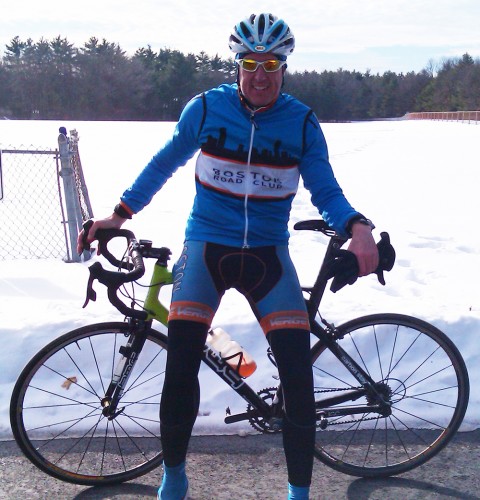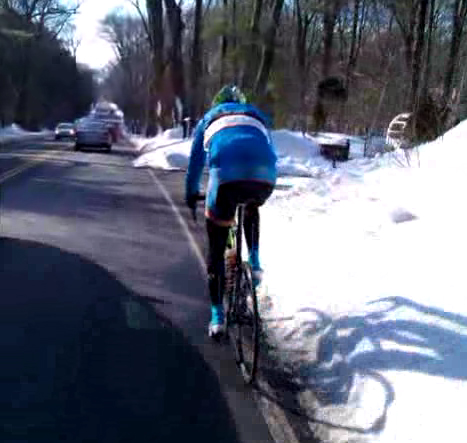 Dave Says:
Here are some photo of me in the snow last weekend.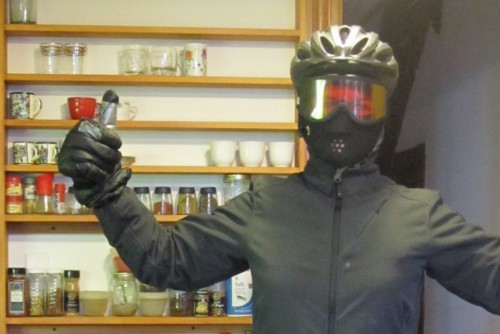 Gina says:
I ride 15 miles roundtrip between Amherst and Northampton on the Norwottuck Rail Trail. I like the motorcycle rider /slick skier look. This is me after the last run of the day. Yee hah.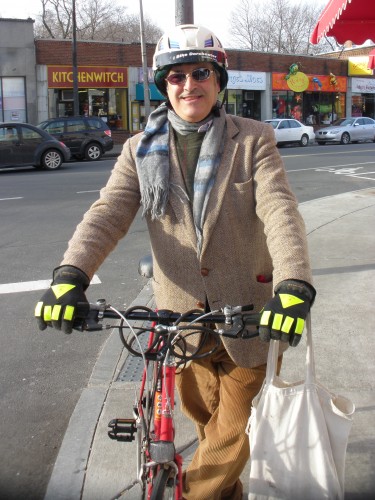 Phil Says:
OK, so here is what I typically wear on an 'average' winter day. I'm sorry there isn't any snow scene available where my photographer is anyway…

Outfit:

Cords (usually have a pair of flannel lined chinos)
Wool socks
Dress Shirt
Cashmere Sweater
Cashmere Scarf
Wool Gloves with cool neon colored bike gloves over. Folks STOP when you wave with those for sure.
Hand made Wool knitted felt hat
Helmet has pads removed to make room for the warm hat
Sun glasses (but I have a pair of orange ones for cloudy days and clear ones for night time…these are important)
Harris Tweed Jacket (as bought at Boomerangs for $14.99) is the KEY!

I ride from Peabody Square in Dorchester to the Brewery at Amory Street each day. Typically we go from Amory to Centre Street to the PO as well…AND BACK. Also ride just about everywhere in the city which includes one or two evening meetings a week… Figure we ride about 75 miles a week on average over the course of the year. It's probably closer to 50-60 in the winter months.

If it gets colder we add:

A half length woolen overcoat.
Sheep skin mittens
Sheep skin hat with ear flaps
Better warmer shoes
Wool pants
long underwear
ski goggles (if it's nearing zero)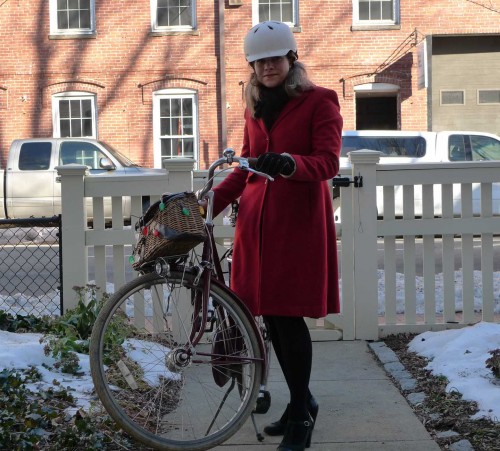 Carice Says:
So not much snow or visible "winter" in this photo, but it was 29 degrees when I was going out the door to work this morning, and this is what I was wearing: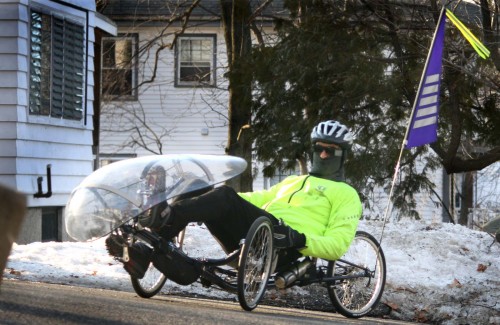 Geoff Says:
That triangle thing? That's my nose!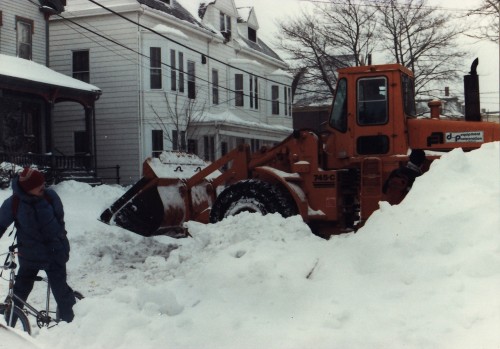 Rebecca says:
This is a photo of Paul Larrabee riding in a blizzard on Park ave. in Somerville in 1980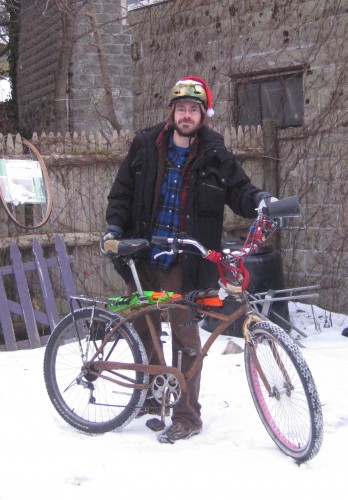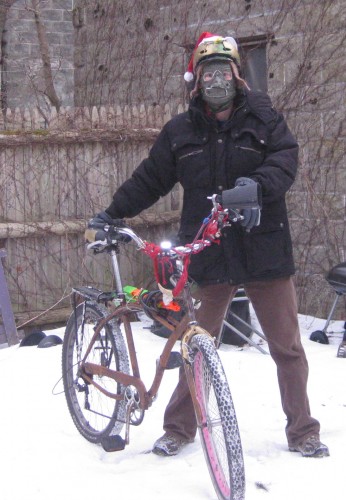 Galen Says:
Last minute addition. Nothing too special about these shots, except I get to show off my santa helmet and facemask. And the Jambike's killer wheels for this type of weather.
I was super impressed with the diversity of the entries. I have been seeing an explosion of year round riders in Boston, so expect to see a whole lot more of the people above out on the streets this winter.
Whats your winter riding style? Which submitted picture is your favorite? Got any winter riding questions?
Happy and warm cycling everyone 🙂
Tags:
pictures
,
prizes!
,
style
,
winter riding
Posted in
fun
|
8 Comments »