Written by Boston Biker on Aug 12
Got this in the email, looks like a fun "tweed ride" type ride for those of you up north this weekend.
————————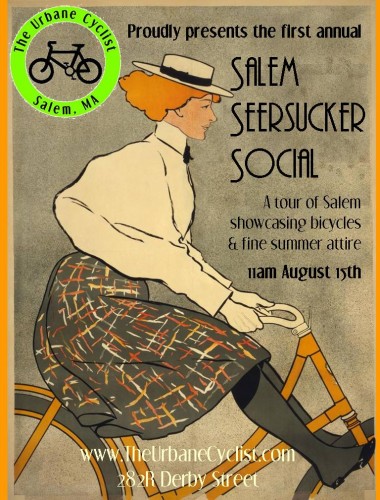 The Urbane Cyclist proudly presents the first annual Salem Seersucker Social.
On Sunday, August 15th, we'll gather for a ride around Salem to celebrate cycling with a nod to summer fashions of yesteryear fit for our leisurely ride and picnic to follow. It's sure to be a smashing good time and the talk of the town for months to come!
Although it's not mandatory that you dress up to participate, we encourage ensembles that are both stylish and functional, inspired by the sporty garb of bygone eras.
From knickers to newsboy caps, seersucker to silk, anything with a festive, summery touch is fair game! If you need advice on what to wear, drop us an email or start rummaging through your attic or the rack of your local thrift store.
Natty apparel is just the beginning! We hope to see some great bicycles, too. Any two-wheeler that fills you with glee each time you take to the saddle that's in safe,
working order is warmly welcome on the ride. We aim to unite cyclists of the North Shore through the pleasures of bicycling for recreation and good health.
The ride will depart at 11am from the shop at 282 R Derby Street in Salem. After our jovial jaunt 'round town, we will reconvene at the shop for a picnic. The Urbane Cyclist will provide punch and sweets. We encourage you to pack a basket of nibbles if you care for something more substantial.
The suggested donation for the ride is $5 per person or a gift of nonperishable foods, all to benefit Saint Joseph's Food Pantry of Salem.
We'd like to tip our hats to Dandies and Quaintrelles of Washington D.C. for creating such a swell alternative to a Tweed Ride. Well done, chaps!
Posted in
events
,
Uncategorized
|
No Comments »