Written by Boston Biker on Aug 10
Edit: It seems the young lady later died of her injuries.
At about 4:17pm, on Monday, August 9, 2010, officers from Area D-14 (Brighton) responded to a radio call for an accident involving a bicyclist being struck by a motor vehicle in the area of Warren Street and Commonwealth Ave. On arrival, officers located and observed a 24 year-old female victim being attended to and treated by EMS. The female victim, suffering from life threatening injuries, was transported to the Brigham & Women's Hospital where she later succumbed to injuries and was pronounced. The cause of the accident is currently under investigation.
AB Bikes, and others have reported a potential fatal crash on Comm. Ave. last night, anyone have details?
I've been hearing reports of a bad bike accident, yesterday evening at the intersection of Kelton St and Comm Ave. There is nothing official yet, but you can read reports/tweets here: http://www.universalhub.com/2010/bicyclist-hit-car-brighton

From what I've heard, she was a 24 years old, no helmet, wearing headphones, who may have run a red light. The driver apparently had the right of way. Again, the reports are unverified.
Be careful out there. I will post more details as I get them.
Edit: Lots of reports of a lot of blood in the street from the accident, but I still cant confirm a fatality…I think we can be sure it was a lady, thats about all I can confirm at this point.
Edit: Here is the location of the crash, Kelton and Comm. Ave.
EDIT: Just got off the phone with the cops, they say they don't have any fatalities recorded for yesterday involving a bicyclist, so hopefully that means that the young lady survived.
EDIT: Here is a picture of the bike at the scene. Pink and purple step through frame. Looks geared, and with brakes (aka, this wasn't a fixed gear bicycle).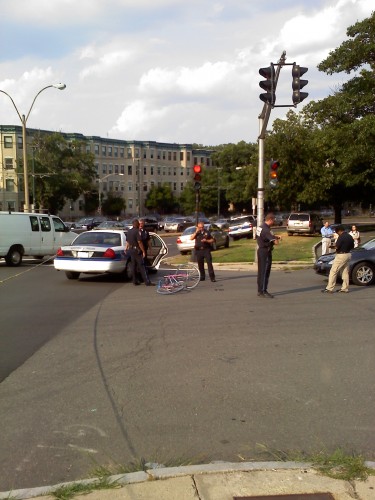 Edit: The globe seems to have finally noticed, no new info however.
Edit: More info about the young lady who died Marlene "Marly" Pineda here.
Tags:
bike crash
,
Brighton
,
Comm. Ave
,
Commonwealth Ave
Posted in
news
|
16 Comments »