Written by Boston Biker on Mar 10
Swwwwweeeeeet!
Whenever I meet someone who finds out that I work on the directions team for Google Maps, the first question I'm asked is often "So when's Google Maps going to add biking directions?" We're big biking fans too, so we've been itching to give you a concrete answer. I don't want to keep the good news a secret any longer, so the answer is: right now!

Today we've added biking directions and extensive bike trail data to Google Maps for the U.S. My team has been keeping close tabs on all the public support for biking directions that's been steadily coming in, but we knew that when we added the feature, we wanted to do it right: we wanted to include as much bike trail data as possible, provide efficient routes, allow riders to customize their trip, make use of bike lanes, calculate rider-friendly routes that avoid big hills and customize the look of the map for cycling to encourage folks to hop on their bikes. So that's exactly what we've done.

Let's say you want to bike to work, or maybe you want to drive less and spend more time outdoors. Biking directions can help you find a convenient and efficient route that makes use of dedicated bike trails or lanes and avoids hills whenever possible. To find biking directions, select "Bicycling" from the drop-down menu when you do a directions search:
Read more here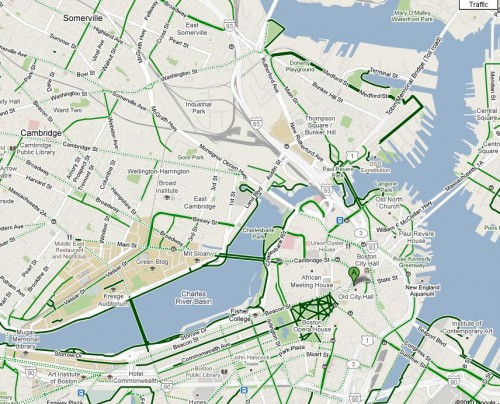 * Dark green indicates a dedicated bike-only trail;
* Light green indicates a dedicated bike lane along a road;
* Dashed green indicates roads that are designated as preferred for bicycling, but without dedicated lanes
This is actually pretty awesome, and you can help it get better by using the report a problem link (bottom right of the map), basically this is what Boston has needed for a long time, a dynamic, user editable bike map of the city that can be collaborated on by thousands of bikers at all hours of the day and night.
Just to be silly I wanted to see what this could do so I typed in Boston to Ohio and low and behold in a mere 3 days and 11 hours google say I could be enjoying the midwest…As this grows it could be a boon to bike riders the world over.
Tags:
bike map
,
boston
,
google
Posted in
fun
,
routes
|
15 Comments »