Written by Boston Biker on Oct 10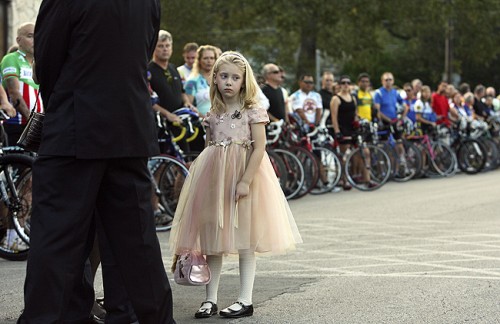 This little girl is at her parents funeral, both of whom were killed when they were struck by a truck in Texas while riding a tandem. I look at this picture and frankly it brings me to tears, the row of cyclists like an honor guard and that tiny little bike pin on her dress makes me cry even as I write this. You can read the details on this story here.
As hard as it is to take a step back from such a visceral shock to our emotions as a situation like is I am going to try. This poor little girl is going to spend the rest of her life without a mother or father because of a crash that most likely could have been avoided. In popular language we call them Car accidents, or bike accidents, but in reality almost all crashes are avoidable. Either through better infrastructure, better upkeep of vehicles, better behavior, avoiding drunk driving, better choices etc. There is very little reason that we should ever have to read about people like that little girl.
If you drive a car, or know someone who drives a car you need to take a good hard look at that little girl. She is all alone, and will never grow up with the love of a mother or father, because a truck struck and killed both her parents. The driver of which is not being charged because the police claim he "lost control" of his truck. Which personally I don't understand. I mean if you lose control of your vehicle and kill two other people isn't it your fault no matter why you lost control? On top of that if the road had been designed for safer bicycle use it would have been harder for the truck to have struck the couple. If education would have been better drivers would have been more careful around cyclists. If this driver had been charged with vehicular homicide it would have sent a message to other drivers. If laws had been better the speed limit might have been lowered in this area… The list goes on and on, there are so many things that could have been done to make this situation come out different, I find it shocking that it be called an accident.
If you drive a car, and you find yourself honking at cyclists, driving close to them on purpose, harassing them, or even failing to pay attention while talking on your phone or making turns, you could be the cause of another picture like the one above. If you ride a bicycle and you run red lights, take unnecessary risks, and behave in an aggressive way you might also be to blame. But what both groups need to understand on a very deep level, is that most of these behaviors are driven by the absolutely inane desire to "get where you are going faster."
Cars honk at cyclists, and endanger them so they can get to the next red light several seconds faster. Bikers run through intersections and blow past stop signs endangering themselves and pedestrians simply to get to the next stop several seconds faster. None of which makes any damn sense. Drivers honk at cyclists for "slowing them down" and cyclists hate this. Cyclists run red lights and drivers hate this. But the thing is all these behaviors are driven by the desire to go faster. The result of which is little girls with no parents.
And that is where I stop being even handed and start addressing only motorists. I am talking to the Monique Spencer's of the world here. Several studies and a lot of personal experience has led me to conclude the vast majority or crashes are being caused by motorists failing to yield to cyclists when turning, opening doors into their path, and striking them when pulling out of driveways and side streets. You might get up in arms about the red light running, and the rest, but all the data seems to point to a very clear thing. Motorists kill cyclists because they fail to be safe around them.
It is going to be hard for motorists to accept this because they react in a visceral and illogical way to cyclists running red lights (yet another reason for cyclists to stop doing it), but the vast majority (in some studies as much as 90%) of crashes are caused by motorists. I have the following simple list of things that you can do as a motorist to make cyclists safer, and to save yourself the tragic consequences of killing someone.
Before you make a right hand turn do your best to look behind and to the side of your vehicle to make sure no cyclists are there.
When making a left turn remember that you have to YIELD to oncoming traffic, including but not limited to cyclists.
Do not pass a cyclist then quickly turn in front of them.
Before pulling out of a driveway or side street scan the sidewalk and the side of the road for cyclists IN BOTH DIRECTIONS. I know it is wrong but some Cyclists ride the wrong way down the street, and don't always ride in the center of the lane where you might be looking.
Before opening your door look behind you.
The next time you are tempted to honk or harass a cyclist remember that they are a human being, and that even if they appear to be doing something wrong, killing them, or harming them will not help you go faster, or help them change behavior.
SLOW DOWN. Speed is not a value, being late is not as bad as being a murderer, being slowed is not as bad as hurting someone, and being delayed for a couple of seconds is not as bad as being an asshole.
If all else fails take another look at that little girl, look into her eyes, and remember that everyone is someones mother or father or brother or sister or son or daughter…
Tags:
cyclists
,
death
,
outrage
,
preventable
,
tandem
,
tragedy
Posted in
advocacy
,
education
,
news
|
7 Comments »