Written by Boston Biker on Feb 12
Oh my goodness it is nice outside today. The morning ride (which for the last couple months has been an exercise in endurance) was AWESOME! Nice breeze, sunshine, lots of people on bikes, completely amazing from tires to helmet.
I also saw a million more people outside on bike than I have for the last three months. This is not surprising as (have I mentioned this) it was freaking stellar outside this morning.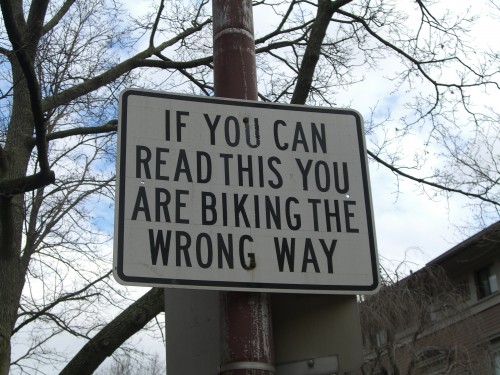 I did however see some things that made me a bit worried.
1. Get fenders, seriously I saw so many skunk stripes this morning that I thought it was a new fashion statement.
2. Red lights mean stop… I have run red lights in my day, but not when a big ass truck is about to hit me… If you must run the red lights at least slow down and LOOK BOTH WAYS before running out into traffic. Do you know what kind of therapy bills I will have to pay after I see you dismembered by a Volvo in the middle of an intersection.
3. Cops are not ninjas. Seriously why would you run a red light in Cambridge (known for this sort of thing) when their are TWO COPS in full uniform on the other side of the intersection with TICKET BOOKS in their hands WAITING TO GIVE OUT TICKETS to bikers running red lights… I saw them a block away, they were standing almost in the road watching all the bikers go by. How did you two people in front of me miss them?
So in short, enjoy the ride, but remember this is not like riding your car, you have to pay attention!
Tags:
awesome
,
bike ride
,
cops
,
seriously
,
tickets
,
watch out
,
weather
Posted in
fun
|
2 Comments »