Written by Boston Biker on Feb 10
AWWWWW bike love! You know you are a sucker for a good bike love story. Maybe this is your chance to start one. Check out this sweet bike ride put on by MassBike.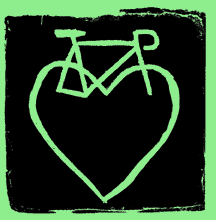 —-
Valentine's Day Ride: February 14, 2009
Bring your sweetie or come looking for that special cycling someone! The first ride in the 2009 MassBike Spins Ride Series will be Saturday, February 14th, at 11am. The ride will start in Boston Common near the Brewer Fountain (corner of Park and Tremont). The ride will last about an hour and we will travel at a very leisurely pace. The ride will end at the Boston Common but if people are interested we can ride to several locations to get hot chocolate or lunch after (be sure to bring some money if you are interested in this option). Extreme weather will cancel. Led by MassBike's own Shane Jordan and James McBride. RSVP to [email protected] Wearing red and pink is encouraged.
Posted in
events
|
No Comments »