Written by Boston Biker on Oct 20
These look like some nice classes, and are cheap too!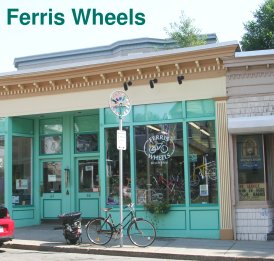 Ferris Wheels Bike Shop in Jamaica Plain is offering classes in fall 2008 for bicyclists. Mondays nights at 7 pm. Oct. 20: Flats (hands-on); Oct. 27: Brakes; Nov. 3: Winter Riding tips (basic); Nov. 10: Bearings; Nov. 17: Quick and Dirty talk on flats (basic); and Nov. 24: Spoke replacement and wheel truing. Basic classes are: $5; hands-on are $30. Classes will be held at Ferris Wheels, 66 South St., JP. Register by calling Ferris Wheels at 617 524-BIKE.
Tags:
Classes
,
Ferris Wheels
,
Jamaica Plain
Posted in
Bike Business
,
fun
,
Mechanical
|
No Comments »